Emily McCaul, assistant lifestyles editor | The Collegiate Times
For the coffee lovers on campus, Virginia Tech provides several options for its caffeine-craving students: Dunkin' Donuts, Deet's Place, EspressOasis, Peet's and Au Bon Pain. The pastry shelves and coffee stirrers soon become familiar sights amid the bustling students' school weeks.
Among the growling list of coffee stops provided by Virginia Tech, positioned carefully amid the academic buildings and off-campus dining options, is the Virginia Tech Starbucks (located on Turner Street).
For Hokies running to class near Surge, Shanks or the Moss Art Center, this Starbucks is nestled directly behind your classrooms in Blacksburg's North End Center. Yet another easy walk to coffee, the VT Starbucks sits on the edge of campus and has a lot going on this month.
Starbucks is currently running a national promotion called "Starbucks for Life," an interactive game that is as self-explanatory as it sounds. The promotion is running for a limited time as a summer edition from Aug. 2 to Sept. 12.
Why is this relevant to Hokies? Virginia Tech has a Starbucks at the edge of campus, within walking distance from classes and dorms — and the four desirable prizes include Starbucks for a week, Starbucks for a month, Starbucks for a year or Starbucks for life.
How it works:
The Starbucks for Life promotion is an extension of the Starbucks Rewards program — all you need to sign up are a love for coffee and an active email account. Now made more accessible through the convenience of an app, students can upload gift cards and money to their accounts before walking in, then conveniently pay with a barcode on their phones.
Each purchase made through the app earns students and customers one "play," depicted in the form of a virtual ice cube accessible through the app itself or at https://www.starbucksforlife.com. On the website, the player clicks continuously on his or her ice cube until it "melts" to reveal a sticker. The goal is to collect three specified stickers in order to win one of the four prizes.
Also worth mentioning is that each time students use the app to purchase their occasional frappuccino or daily mocha, they push themselves closer to earning a Starbucks Gold Card. "Gold Card status" comes with loads of added benefits: free refills on brewed coffee and tea, a free drink or food item on your birthday, member-only events and other exclusive promotions.
Let's talk numbers:
Let's say you hit the jackpot — you're casually sipping away on your third iced caramel macchiato this week when, out of nowhere, your ice cube melts to reveal the third sticker you need! You're taking home a lot more than just coffee. Starbucks is giving away more than 2.1 million dollars in prizes.
Want to know your odds of winning? I'll touch on that as well.
If you win free Starbucks for a week, you will take home one free menu item or drink for seven consecutive days. A typical, grande-sized espresso drink will run you $5.18 at the counter. That is $36.28 in free coffee — not a bad payout. In order to get the most out of your winnings, visit Starbucks every day of your winning week — vouchers for your free menu items will expire at the end of each day. Your odds of winning? Starbucks is giving away 500 of these free weekly passes, so if you win big this month, you are most likely to take home this prize.
If you win free Starbucks for a month, you take home one free menu item or drink everyday for 31 consecutive days. There will be 125 winners in this bracket. At $5.18 a drink, that would be $160.58 in winnings.
The next prize in the lineup is Starbucks for a year, and 25 lucky players will take this prize home. Once again, at a conservative $5.18 a drink, that puts your winnings at $1,890.70 in free Starbucks. Fun fact: $1,890.70 is three times the amount of my first car. You could win the value of three cars worth of coffee.
Last but not least, five legendary souls will win Starbucks for life. Winners of this prize will take home one free menu item or drink every day for 30 years. Again, if you bought one grande-sized espresso drink every day for 30 years, you would be taking home $56,721 in product from Starbucks.
That number nears the value of most students' college tuition.
What Hokies said on Twitter: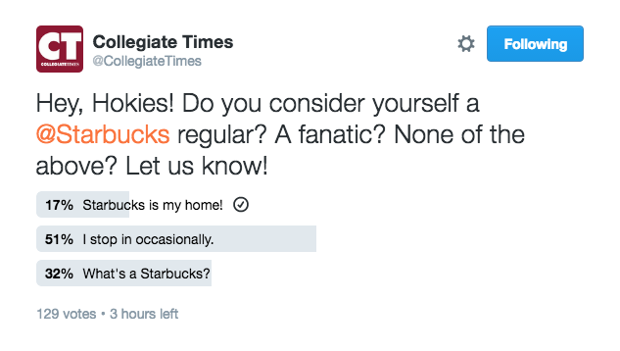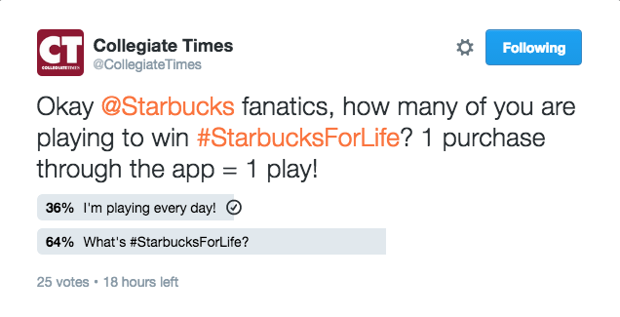 Of the responses received, most people said they visited Starbucks occasionally, but were not familiar with the Starbucks for Life promotion. This emphasized the need for more information, engagement and coffee talk.
With multiple locations in Blacksburg and Virginia Tech's Starbucks just at the cusp of campus, start caffeinating now — you could soon be taking home thousands of dollars in free coffee.