Emily McCaul, assistant lifestyles editor | The Collegiate Times
The sky was clear and the air was warm as we stepped out of our Civic and onto the familiar streets of downtown Roanoke. Inspired to venture out from Blacksburg for the day, we eagerly climbed up the steps of three coffeehouses.
Upon leaving our apartments, we brought less than $20 with us. The short drive, just 45 minutes from home, led us to a day filled with wooden coffee stirrers, caffeine highs and new experiences.
On this trip, we hit three stops on the map: CUPS, On the Rise and Sweet Donkey.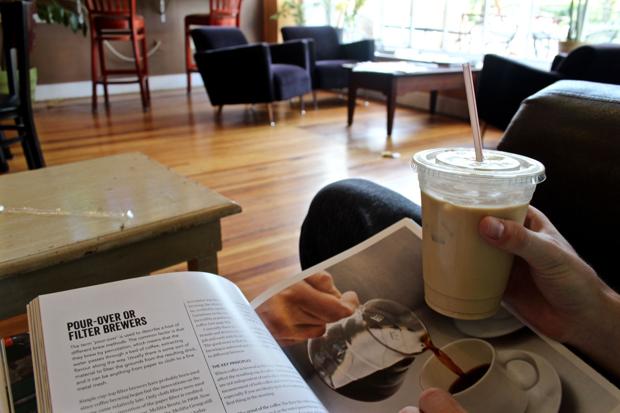 CUPS — Roanoke, Virginia.
What we ordered: Cold-brew coffee with cream.
Atmosphere: Two words come to mind in this space: light and lived-in. The large storefront window, airy yet rich with color, floods the room with light. The space is breathable, yet cozy; it's not a contemporary space, and appreciatively so — quiet tables and soft couches create intimate meeting spaces atop the fair, hardwood floors.
CUPS is great for: working and casual coffee dates. Airy and a bit quiet at times, the space is perfect for catching up on reading, first dates or casual meet-ups with friends. Take in the sunshine and enjoy some delicious coffee — I recommend the cold brew.
Drink rating: We tried CUPS' cold brew. A solid four out of five, this cold brew carries the perfect balance of body and punch. The cold brew goes down easy without the acidic bite of traditional hot coffee. Mixed carefully with an agreeable amount of cream, this drink is complimentary to end-of-summer weather.
Overall star rating: Four and a half out of five stars.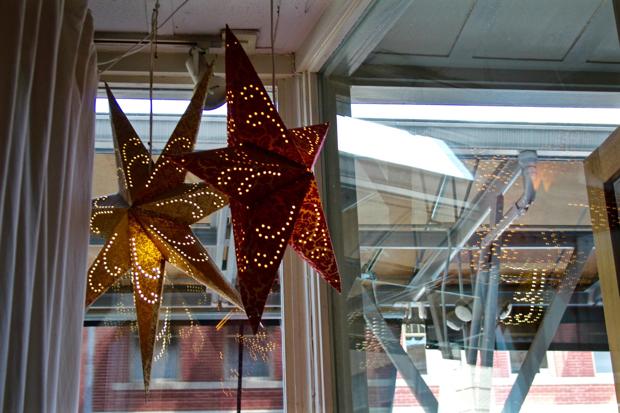 On the Rise — Downtown Roanoke, Virginia.
What we ordered: Caffe mocha.
Atmosphere: Think "classy bakery meets cozy coffee stop," this space is equally intimate and charming. Tucked away amid the streets of downtown Roanoke, you'll recognize the shop by its star-shaped lanterns and loaves of bread in the windows. The marble coffee tables for two create a clean, open feeling in the well-lit space.
On the Rise is great for: More than just coffee. While attention is thoughtfully put into the drinks here, On the Rise is recognized more often for its bakery items: pizza, cakes and freshly baked bread. We actually stopped here for lunch — if you're looking for a recommendation, the two-cheese and tomato pizza was refreshingly simple, yet appreciatively flavorful.
Drink rating: I give the caffe mocha a three and a half out of five. This drink carries an immense similarity to hot chocolate, "spiked" with espresso. While I prefer a stronger taste of coffee to my mocha, I recognize that many prefer the hint-of-coffee taste to their morning brews as well. What I like about this drink, and this cafe, is that it comes from the developed drink menu of a bread company. For a cafe that isn't known for making coffee, they have a wide selection of drinks and espressos — and they're good.
Overall star rating: Four and a half out of five stars.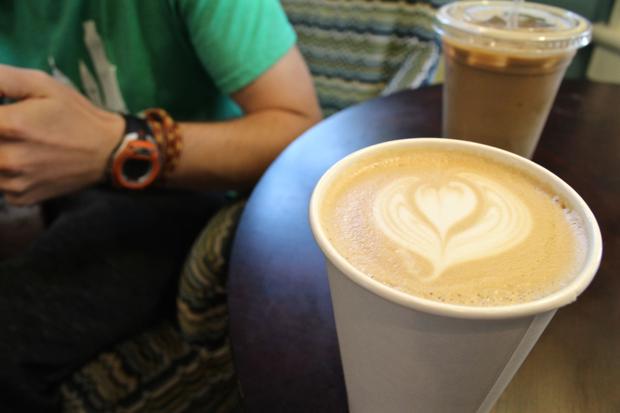 Sweet Donkey — Roanoke, Virginia.
What we ordered: Orange silk latte.
Atmosphere: Casual, inviting and well put-together, this coffeehouse offers a comfortable space. Bustling with customers, the traffic flows smoothly. You're aware of the number of people coming in and out the doors, but it's hardly disruptive. Have a deep conversation on the porch of the house, or settle into the shop's plush, patterned chairs.
Sweet Donkey is great for: Conversation. The plethora of seating options allows for plenty of space between you and the other coffee-goers. Enjoy talking with your coffee partner freely here.
Drink rating: I give the orange silk latte a four and a half out of five. The latte's foam is light and voluminous. A sip with multiple flavors, this coffee is thoughtfully complex. Think classic creamsicle meets toasty-espresso — a refreshing twist on the traditional cup of coffee, this drink is a limited-time special, so you'll want to try it soon.
Overall star rating: Four and three-quarters out of five stars.
If you are in the mood for coffee; a quick, morning getaway or a distraction from homework — take a coffee road trip this weekend.